Last Updated: May 7, 2021
The Technology Department, along with its contracted service providers Cerdant and Code Blue will be replacing the Wi-Fi infrastructure in all district buildings starting the week of May 10, 2021. This webpage contains important information regarding the project and what changes you can expect as the project takes place.
What to expect…
Throughout the duration of this project, Wi-Fi and wired network services will continue to be available for use by all staff and students using District-provided equipment during the regular school day. There will be no planned disruptions to the learning process as a result of this project. Physical hardware installation, configuration, and testing will start at the end of a building's school day and continue into the evening hours. See the schedule section below for more information about the draft timeline.
All District-managed computers, iPads, Chromebooks, and other devices that connect to Wi-Fi will continue to work with no changes needed by the end-user.
All devices that use the District's wired network will continue to work.
Staff and Student personal devices will need to connect to a different Wi-Fi network after the building's equipment have been upgraded. See the section on personal devices below for additional information.
Visitors utilizing single-use Wi-Fi cards will also need to connect to a different Wi-Fi network after the building's equipment has been upgraded. See the section on visitor devices below for additional information.
Staff will receive an email with information on the status of the project in their specific building before work begins.
While extensive testing and verification will be completed prior to the start of the following school day, it is still possible that staff and students will encounter issues not anticipated or fully identified during testing. While we can test most websites, and software packages that are used to ensure functionally, we are unable to duplicate the environment of a building full of staff and students with hundreds of devices. If you experience any issues with Wi-Fi after your building has been upgraded, please submit a help ticket by clicking here. Do not assume we are aware of your specific issue because it's the same as a colleague who already submitted a ticket, please submit a ticket regardless. This will allow us to faster determine the scale at which a problem is happening and narrow down how to fix it. Please provide as much detail as possible (what is happening, where is it happening, is it happening to multiple people, etc.) when creating the help ticket.
Project Schedule
Project work will take place after the conclusion of the regular school day in each building. Care has been taken to avoid known events taking place after school hours in each building as published to the District's calendar or listed in SchoolDude. If you know of an event taking place that is not on the District calendar nor in SchoolDude, please submit a help ticket by clicking here. Please note the schedule is subject to change due to many factors. For the most up-to-date schedule, please refer back to this webpage.
It should be noted that most buildings will have their Wi-Fi replaced all in one day but due to the size and complexity of the High School, it will take multiple days to complete. This will result in some areas having the new access points online and others still having the legacy equipment in use for a period of time.
Staff & Students – Connecting personal devices
All District staff and students at the High School are able to connect their personal devices to the District's Wi-Fi network. Currently, staff utilizes the USCSD-Personal Wi-Fi network, and High School students use the HS-Student Wi-Fi network. After the Wi-Fi equipment has been replaced in your building, these networks will no longer be available. Moving forward, all personal devices will connect using the USCSD-PPSK Wi-Fi network. PPSK stands for private pre-shared key and is a technology that allows everyone to connect to the same network but each with a different password.
All employees and high school students will receive an email from no-reply@extremecloudiq.com with an access key for the USCSD-PPSK network. Please safeguard this access key and do not share it with others. You will use this access key to connect personal devices to the USCSD-PPSK Wi-Fi network.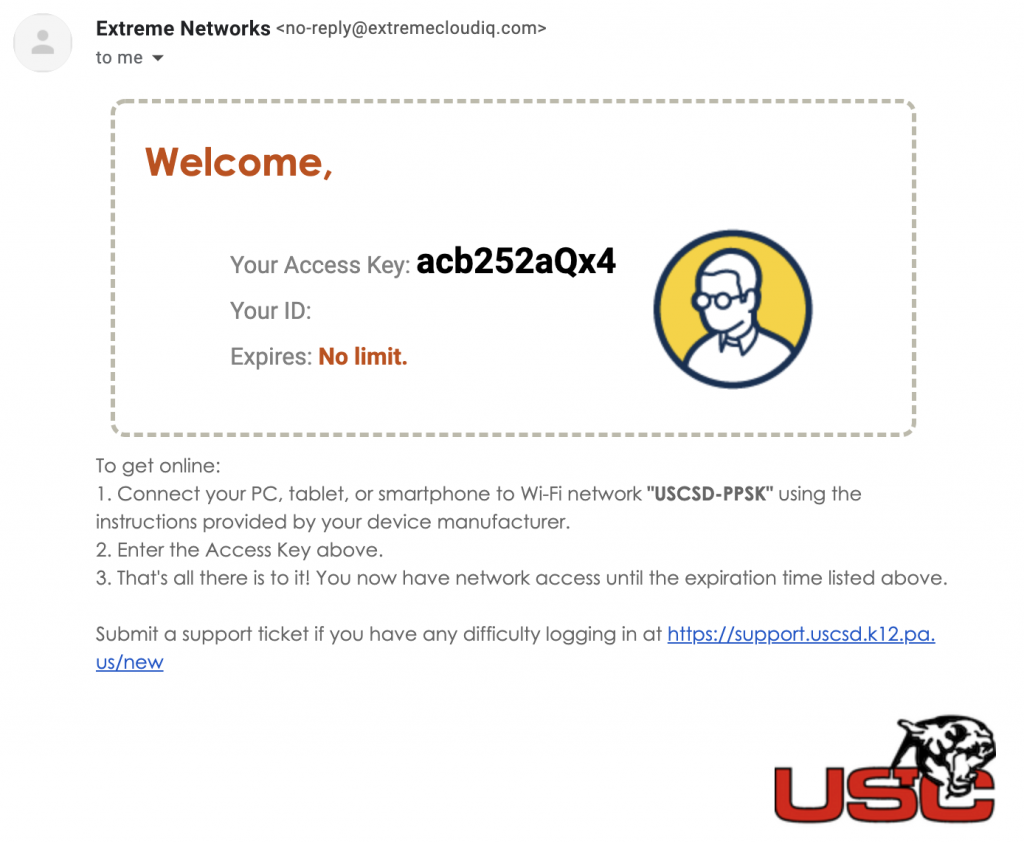 Visitors – Connecting devices
Visitors currently connect to the DISTRICT-Visitor using Wi-Fi voucher cards that are valid for 7-days from activation. This process will be similar moving forward, but visitors will instead connect to the USCSD-PPSK Wi-Fi network using an access code. Access codes are valid for 7-days after first activation as they do currently.
Existing Visitor Wi-Fi voucher cards will be replaced with new Visitor Wi-Fi access cards by the Technology Department prior to the new Wi-Fi access points being installed in each building. Please note that existing voucher cards will not work once the new access points are put into service.
Also note that all access cards moving forward will expire 26 weeks (6 months) after printing.

Project Background
Over 480 wireless access points and 60 network infrastructure switches are being replaced as part of this project and represent the largest single network upgrade project that the District has undertaken at one time. The rapid improvements in wireless technology combined with the increased bandwidth demands on the district's infrastructure meant it was time to replace equipment that has been in production for between five and 15 years continuously. The District's current wireless access point provider, which we have been using since the late-2000s has been acquired and sold by two different companies over the past several years. As a result, the development of their product lines and investment in new technologies has not kept pace with the rest of the wireless industry. This replacement project will be installing new switching and wireless access points from a different vendor, to ensure the best experience for all who use the District wired or wireless networks on any given day. At the end of this project over 80% of the district's network equipment will have been replaced.