TimeClock has moved!
The Upper St. Clair School District's TimeClock system has migrated to a new platform.  To access TimeClock, visit the Staff Links page – https://webinfo.uscsd.k12.pa.us/stafflinks and look for the TimeClock Plus icon shown below.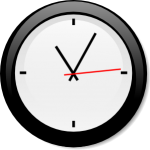 Note that any bookmarks or shortcuts that led you to this web page should be deleted.  Moving forward, use the Staff Links page to reach TimeClock.
Regards,
USCSD Technology Department